From an environmental initiative to a compost production plant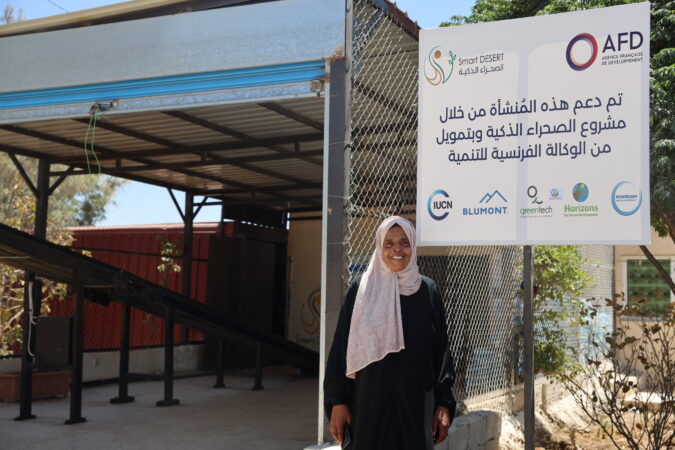 ---
The percentage of women who provide for their families in Jordan reaches 17.5%* and they have many responsibilities, from raising children to securing material expenses, as they struggle to secure the basic needs of their family members in light of the fragile economic conditions in the region
Fayqa (um Ward), one of the women active in the field of community and environmental work, adopted an idea to solve the problem of environmental pollution afflicting the Khalidiya area in Mafraq governorate, to flourish within a short period of time and turn into a compost manufacturing factory where more than 16 Jordanian women and Syrian refugee women, most of whom are the sole breadwinners of their families, works
The factory began production in 2018, where most of the manufacturing and loading processes were carried out manually, and there was not enough budget to rehabilitate the tools and facilities of the factory such as the work yard, warehouses, and toilets, Um Ward says, "Production and marketing were weak, the number of workers and their physical abilities are limited due to the fact that most of them are old, and the products were reaching the market in a bad condition because there were no suitable stores to store products, especially in winter".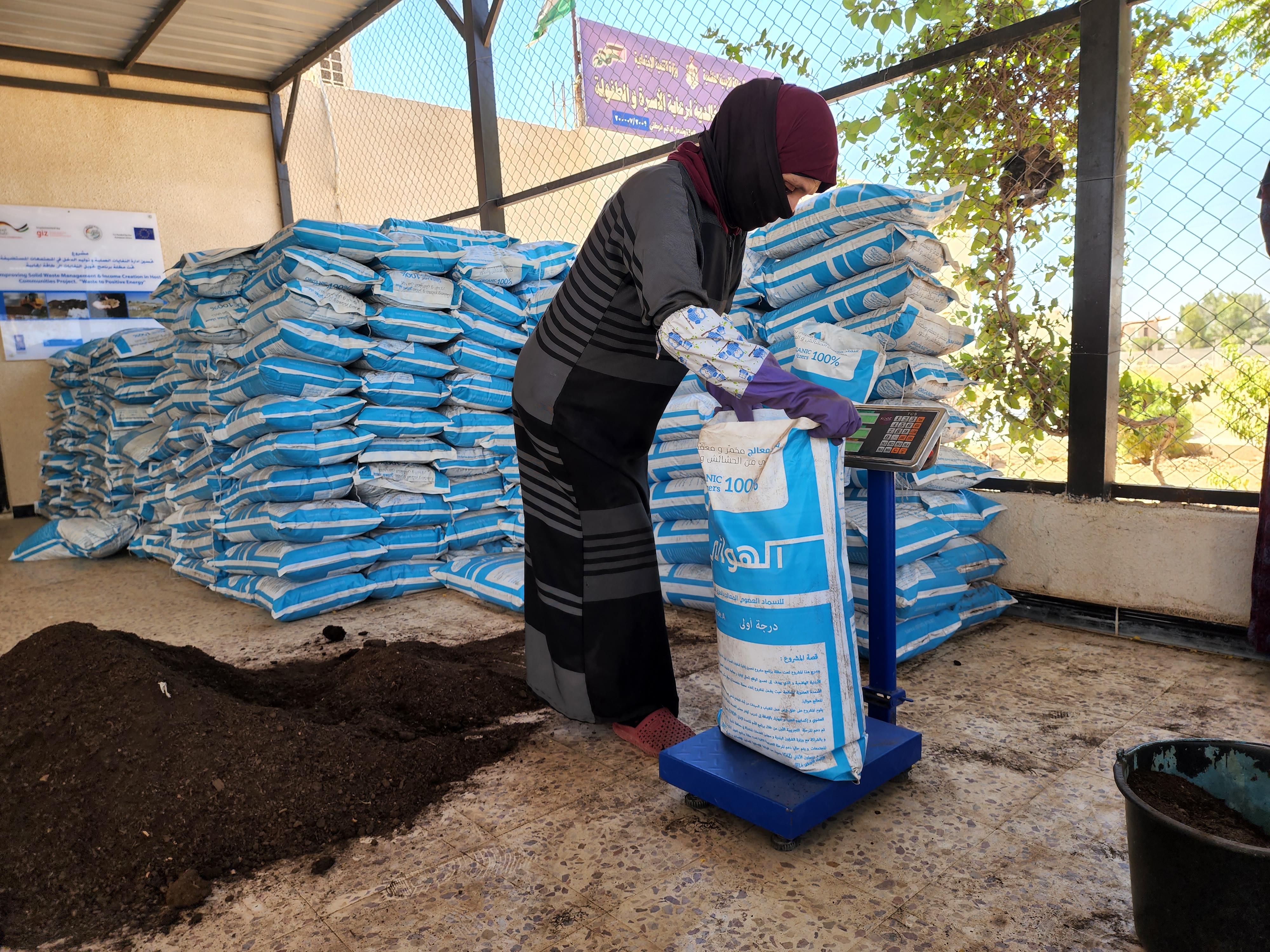 Through the Smart Desert project funded by the French Development Agency, the laboratory was provided with the necessary equipment such as a loading device and sewing machines, and the rehabilitation of facilities and toilets used by female workers. Khitam, 51, one of the lab workers and the only provider for her family, said, "We used to take a long time sewing compost bags with our hands, and we were carrying a large number of heavy bags from the factory to the loading cars, and As soon as the work is finished, we begin to suffer with many aches and pains in the back and neck, but now that the Smart Desert project has provided us with sewing machines and a loading device, the work has become much easier, and most of the physical aches that I had previously suffered have disappeared."
In addition to the equipment, the project has rehabilitated the sanitary facilities, an umbrella has been added to protect the workers from the sun while they work in the outdoor yard where most of the production processes take place, and the project has worked on the establishment of a kitchen for women to ensure a healthy and comfortable working environment for them, says Amina, 41, who is also the sole provider for her family, "We spend most of our day at work, and when the lunch break time came it was difficult to prepare something to drink or eat together, but now it is possible, That the project provided us with a kitchen".
And through the support provided, the factory will be able to open the door for five other women to get a job opportunity that preserves their dignity and contributes to their access to a new source of income, "We will be able to hire more workers soon, thanks to the equipment that has been provided to us, our production rate exceeded 50%, and a significant difference appeared on our sales after the improvement in the quality of our products as a result of the project establishing stores to store them in an appropriate way," says Um Ward.
Um Ward dreams of being able to expand her scope of work to create more jobs for the people of the region, and she believes that the opportunity to work is not just a job, but a tool that paves the way for communities and distances them from the pavement of poverty and unemployment.