From desert tents to a successful dairy production project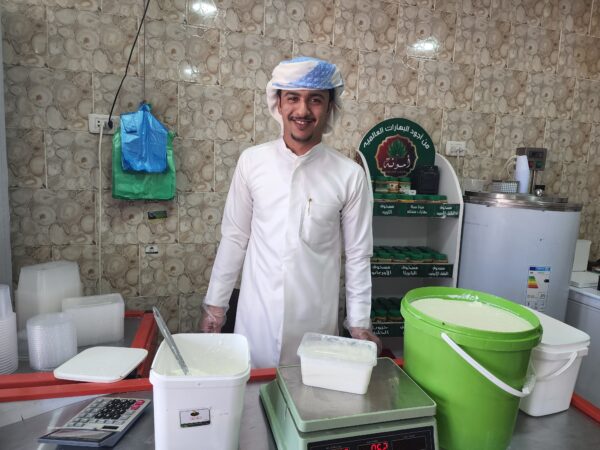 ---
Mohamed and Saqr are entrepreneurs supported by the Smart Desert Project funded by the French Development Agency, where the project provides the necessary support to beneficiaries through several stages, starting from legal awareness and supporting the registration and licensing process, providing training and business development services, and providing guidance to them, in addition to providing them with the necessary equipment and materials to launch and operate their productive projects.
Saqr started his work in the field of dairy production nine years ago, and during this period he had to leave his home town of Khalidiya, to work for the Bedouin sheep owners in the desert, "I had to stay for a long time in the desert to produce dairies in its season, as there were no refrigerators to keep the fresh materials,  I  worked from dusk to dawn, as preparing the cheeses manually requires a long time, and despite all this hard work I was paid a small wage for My efforts as I couldn't produce large quantities," says Saqer                                                                      
While Saqr was in the desert gaining experience in the dairy field, his relative Mohammed was studying at the university, where he had a great desire to establish his own business that he intended to devote his time and effort to working on and had found in his relative Saqr the necessary experience to open a unique project in the town, to make a qualitative leap in their lives after the Smart Desert Project provided them with the necessary equipment and guidance to launch and operate their project
"The beginning was not easy, my family stood against the idea of opening my own business thinking that it would fail because the financial conditions were difficult at the time, and I did not have the money to buy the equipment I needed, but after the project provided me with equipment such as a churning machine, a display refrigerator and raw materials, I was able to achieve my dream of owning my own business that I spared no effort in learning everything about, now the effort I put in my work comes back to me as wage where I was getting only a fraction. The guidance and moral support provided by the project team played a big role in the financial decisions I made that contributed to the success of my project, and my father is now proud that his son, who is only 22 years old, is the owner of the dairy shop where everyone talks about the quality of his products, and they come from distant provinces in order to get them," says Saqr.
The equipment supplied to Saqr and Mohammed contributed to a 50% increase in production compared to what Saqr used to produce manually in the past, and also helped to save time and effort and achieve a new source of income for them: "The project has made us self-sufficient and introduced us to a lot of people, now we are contributing to the expenses of our families, and we can hire some workers   part-time," says Mohammed.
Mohammed and Saqr dream of growing their project to become a factory whose products reach all the governorates of the Kingdom, and believe that with strong will the impossible is achieved, and advise everyone who wants to start his own project to start working tirelessly and not wait for the right moment, and they emphasize that sincerity was the secret of their success "Good reputation is the basis, when customers trust your product they bring you other customers, trust your abilities and be at the good faith of customers in your products."