When the craft is born in Syria and flourishes in Jordan
---
As the second largest hosting country for refugees, Jordan faces a lot of pressure on its economy and natural resources, even with the intervention of the national community to reduce the impact of the Syrian refugees, it has proven difficult to match the resources with the necessary needs, which made Jordan suffer from poverty and increasing unemployment rates, the smart dessert project that is funded by the French Development Agency came in order to make a leap in the agriculture area through economic empowerment to venerable Jordanians and Syrian refugees in the agriculture sector in eastern and northern highlands of Jordan by increasing their income, creating new job opportunities and improving work conditions.
Before the war Abu-Fawaz had a stable life full of hard work to produce a top line of various dairies products that his clients ordered from different countries for its quality. And due to the crises Abu-Fawaz had to leave his shop and equipment's to move to Jordan in search of safe haven "I used to ship my products to Jordan, my clients loved my products and ordered in big quantities. Then I found myself and my family without money or shelter, and I had to work so I can provide for them so I started working in agriculture for a small price
Abu-Fawaz dreamt to reopen his own shop to work in producing dairies again, the craft he has always done since he was a kid, so he started saving small amounts of money to buy milk with it and produce some products with his wife. And in a few years they managed to get back to producing dairies using very basic equipment, and he had employed several of the ladies who have sought refuge with their families in Jordan." The beginning was very tough, and the work was hard, we the ladies had to work very long hours in shaking and boiling the milk in order to make it into Labneh (a type of dairy product) and cheese, and after the work we felt a lot of pain in our bodies" says Abu-Fawaz's wife.
The Smart Desert Project provided Abu Fawaz and his family with the equipment he needed to improve their production, and supported them to rent a factory that would enable them to expand their scope of work and provide other job opportunities for eight Syrian women, so that they could contribute to supporting their families by working in a healthy environment, "Now we can work comfortably, the equipment that has been provided to us has made the work much easier than it was previously, there is an air purifier that purifies the air from the smell of milk and cheese, and there is a shaker machine that enables us to go through large quantities, we can also store larger amounts of milks in refrigerators, and even more cheese due to the sanitary basins that we were provided with by the project, This improved the quality of our products and enabled us to work without feeling the physical exhaustion we had in the past.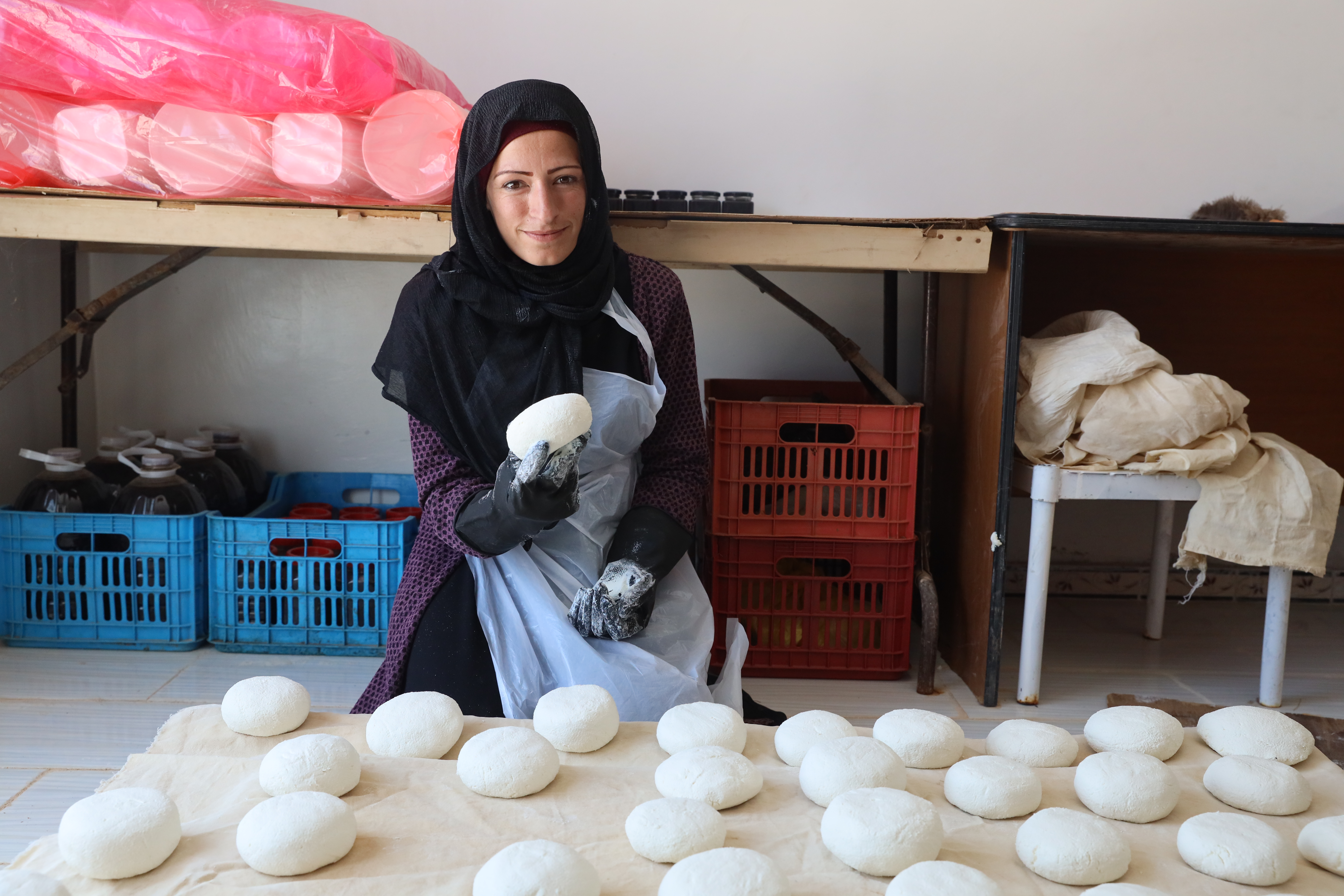 After the increase in production we were able to double the number of female workers, and our products reached new governorates after we could not meet the growing demand, and we are happy that our products have returned to the tables of our loyal customers in Jordan, who have loved them since they were produced in Syria," says Abu Fawaz's wife.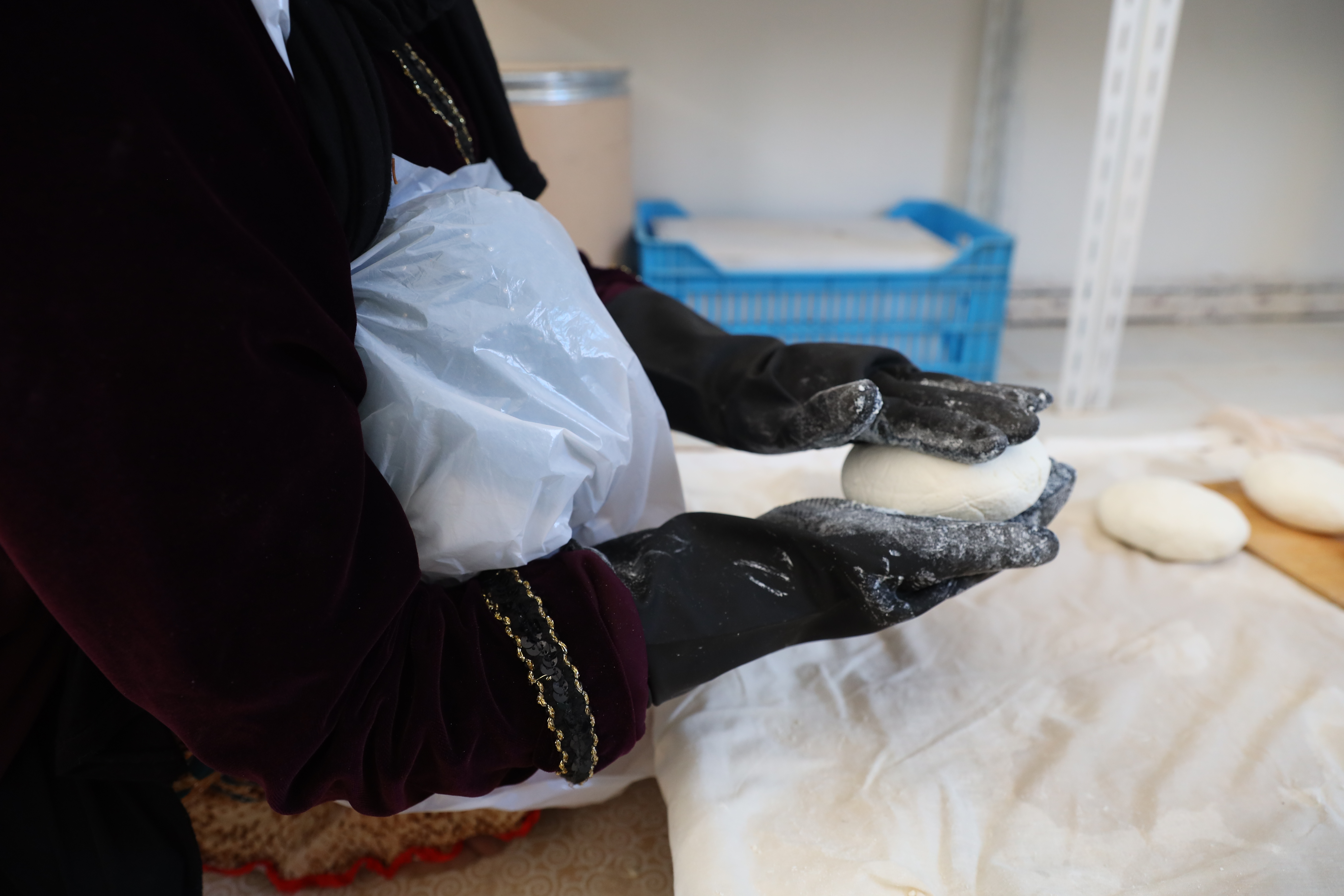 Ali aspires to open a sheep breeding project so that he can provide raw materials for his project, and achieve self-sufficiency for the families working within his project, and believes that he will reach far beyond what he started as long as he has the will to achieve it.