Working From Home: A Young Jordanian's Home-Based Pickling Business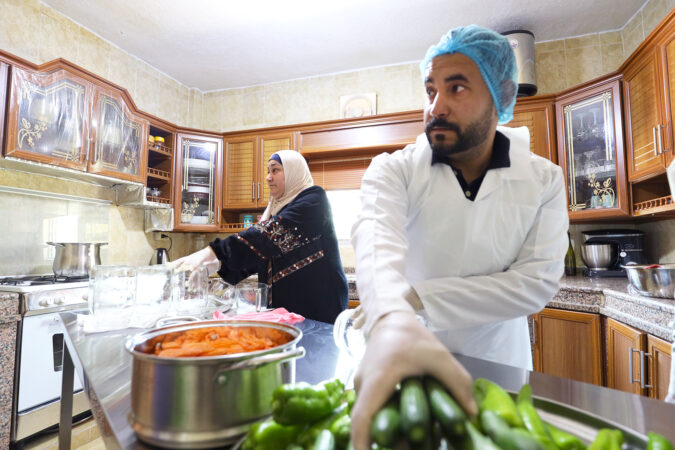 Thursday 12 January, 2023
---
Jamal, who graduated before the beginning of the pandemic with a degree in food processing, always wanted to open his own pickling company. His original plan was to work for a few years to save up for the equipment. However, he struggled to find a job and turned to unpaid training at a food processing factory to get the experience he needed.
After several months, Jamal decided it was time to open his pickling business rather than wait for a job that might never come.
Across Jordan, young people are launching their own home-based businesses. Many feel like it's their best bet for securing a stable income with the unemployment rate and cost of living so high.
To start on the right foot, Jamal applied for support from the Smart DESERT Project to learn how to register and run a business properly.
The Smart DESERT project, funded by the French Development Agency, provides educational, administrative, and legal support to Syrian and Jordanian home-based entrepreneurs before giving them resources to start or expand their projects. For Jamal, this meant registering his business and learning the finance, marketing, and management side of things that would set him up for success.
Smart DESERT, implemented by a consortium led by the International Union for the Conservation of Nature, is working to support 500 home-based projects in Jordan. The project is supporting Jordan's agricultural sector by improving farm practices, working conditions, and year-round income opportunities like home-based businesses.
Once Jamal completed the Smart DESERT training, he received the equipment he needed for his operation. Using his family's household appliances would have held Jamal from achieving the high standards expected for commercial products. "Now, I can prepare pickles in healthy conditions, and I can sell food products in sterile and customized containers only for these products," he said. A new refrigerator gave him extra space to store bulk orders of vegetables, rather than buying as needed for a higher price.
Equipped with the knowledge and tools he needed to start his business, Jamal began pickling from his home, employing both his brother and mother. As their first sales came in, he split the profits with his family for their support.
Customers can confidently buy Jamal's pickles knowing that his business license guarantees the quality of his products. "When the project is licensed," he said, "it ensures the equipment and location for the food production is sanitary and the product is worth the price."
To reach new customers, Jamal is marketing his business using the skills he learned during the Smart DESERT training. Although nearly 40 percent of Jordan's GDP comes from home-based and small businesses,[1] these business owners depend heavily on word-of-mouth to reach new customers. Digital marketing can widen a company's reach significantly.
Even though he is starting small, Jamal aspires to expand his business one day. His next goal is to deliver his pickles to other regions of Jordan. After that, he dreams of opening a larger operation that can partner with restaurants and shops.
"Hard work is priceless," Jamal's father said. "I am very proud of my son, and I am confident that his project will grow and achieve success in the future."